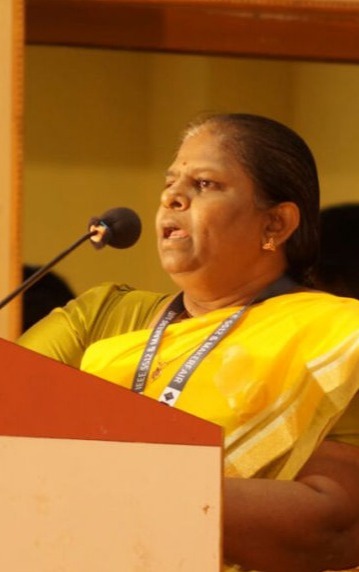 Ramalatha Marimuthu, Director, iExplore Foundation for Sustainable Development, is an on-ground researcher with specialization in Embedded Systems and VLSI. She has led several research projects and published papers on solutions for issues concerning marginalized groups. Her interest in Universal Access to Technology, Technology acceptance and adoption has led her to publish collaborative articles with experts from various countries. She has also delivered invited talks on these research findings in various universities all over the world and Google, Mountainview.
As an educator, she led several projects on curriculum development, introducing industry collaborative labs on animation and gaming. Through international collaboration with US and Japan universities she established assistive technology teams working on projects solving issues faced by people with special needs. Her research in education methodologies led her to publish papers on project-based learning and its impact on career growth. She also leads the IEEE Youth Endeavours on Social Innovations through Sustainable Technology, inviting social innovations from 20 countries all over the world every year and thus rescaling the repeatable innovations to other communities. Pl see www.ieeeyesist12.org
As a member of the committee on Universal Access to Technology of Society on Social Implications of Technology, she is leading informal education activities to the underserved communities leading to collaborative research publications. She is also the principal investigator of a project to identify the socioeconomic factors affecting the health of pregnant women leading to cognitive health complications of the baby.
Her passion in creating opportunities for sustainable careers and lossless workforce leading to a balanced society has resulted in establishing the Returning Mothers Conference. Pl see https://ieeereturningmothers.in/. These efforts to spread technology to underserved communities has been recognized through several awards from IEEE, the Government of Tamil Nādu, Anita Borg Institute for Women and Technology, Lions Club and various other organizations.
My volunteer experience in IEEE and other organisations as a leader and a contributor demonstrates a consistent record of hard work, perseverance, leadership, collaboration and integrity. I have served as a volunteer in student branch, section, region and committee levels and I have a thorough knowledge of the Governance which has served me well through many leadership positions to perform my duties with due diligence. The diversity in my service across the major boards in various levels has given me a very good experience, a large network and a wonderful goodwill.


I believe it is necessary for the growth of the IEEE CS to encourage diverse experience in serving its members, which will help to ensure that knowledge transfer from those resources is possible in times of necessity. Following the pandemic, we are in need of socialization and expansion to expedite matters of importance to reach their natural conclusion. In addition to serving in IEEE MGA and Educational Activities Board in leadership and member positions, I have also served in Discovere's Global Marathon, Anita Borg Institute's Grace Hopper Celebration and World Bank's WePOWER network.
All of these senior leadership positions have enriched my experience, confidence and network to best position me in fulfilling the goals of IEEE CS towards its membership and the society at large.